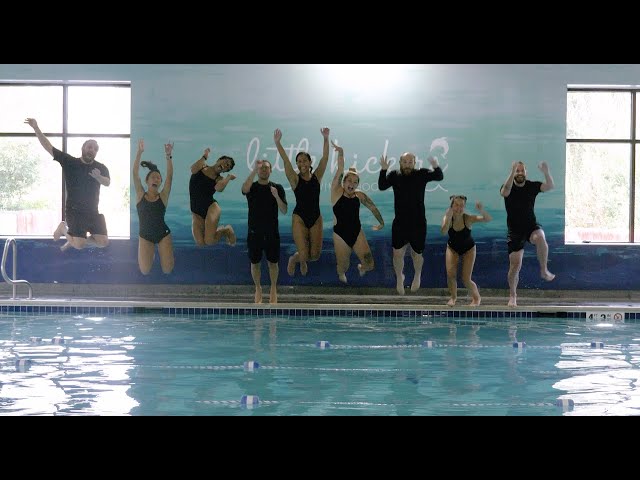 Welcome to Little Kickers, a swim school founded by two sisters, Yael and Daphna!
As Denver natives, the sisters built this business with the hope that every child in the area would have access to high quality swim instruction and develop a life-long love of the water. They also wanted to build a company that would be a family – a place they could find joy. By developing close relationships with the families coming in for lessons and the incredible Little Kickers staff, Daphna and Yael were able to create their own little community. It has been a dream for both sisters to watch that community grow and thrive.
To learn more about our team, please visit our Pike13 site!
THE SWIM WHISPERER
Yael and Daphna started teaching swimming in high school, and working with children in the water quickly became a passion for them both. Yael continued teaching lessons through college, first in their parents' backyard and then in the apartment complex pools where she was living. It didn't take long before she became known as "The Swim Whisperer" and was scrambling for more space to accommodate all her clients. 
As more and more families came to Yael wanting lessons for their children, things became more and more overwhelming. She had Post-Its all over her paper calendar with notes about lessons; she struggled to keep track of who was paying her, and couldn't find time for any vacation because she had no one to cover her. When Daphna moved back to Colorado in 2014, she knew she had to help her sister out, and began providing some much-needed operational and back-end support. As luck would have it, the sisters found a pool in an office building to rent, they hired their first employee, and just like that, the business was official.
SWIMMING AT THE HOLIDAY INN
After three years of ups and downs in the office building, hiring a small staff, and working a million hours a week to meet demand, the Daphna and Yael were desperate to find Little Kickers a new home. It's surprisingly hard to find pool space in Denver, but after many months of searching, they miraculously came upon the Holiday Inn in Cherry Creek.  There they were able to rent the pool during the day and really grow the business, and quickly became known as a standout swim school in Denver. 
Despite being thankful for a space, the hotel pool was far from perfect – it had a leaky roof, small seating capacity, and terrible ventilation. When it rained outside, it seemed to rain inside the pool as well. Daphna and Yael knew the Holiday Inn wasn't a permanent solution, and that the LIttle Kickers Family would soon need a home of its own.
A HOME OF OUR OWN
As Yael and Daphna began the process of searching for a new facility, they entered the very male-dominated fields of construction, architecture, and engineering. As two young women, they were constantly underestimated – people would refer to them as "the girls" or ask if their husbands were helping with the process [insert eyeroll]. Despite all the challenges that came their way, the dream for their own facility and place in the community fueled them through every setback. They faced their fears and jumped into their new business venture with both feet. It wasn't long before the sisters' efforts were rewarded. In March 2019, after a very long journey, Little Kickers finally moved into their own custom-built aquatic facility in Denver's Virginia Vale neighborhood.
LIFE-SAVING SKILLS + TONS OF FUN
The one thing that hasn't changed, no matter the location, is the Little Kickers motto: individualized attention and learning through play. It's a gift to have so many caring instructors that provide crucial water safety skills and swimming instruction to kids of all ages. We take great pride in the quality of our instructors and love hearing the stories from our happy families about how much their child now loves the water.
During lessons, our instructors work one-on-one with a child to build a foundation of trust and fun. This solid foundation allows a child to progress more quickly and helps them grow their confidence both in and outside the pool. We care deeply that each child learn to be safe in the water and work with that child to help them progress at their own pace. We make a special effort during our lessons to allow a child's unique personality to shine through, which helps them to achieve their full potential in the pool.
INSTRUCTORS THAT CARE
When Little Kickers was first taking off, Yael and Daphna spent a lot of time thinking about how biased it was that teachers in classrooms are considered professionals, but swim teachers are often considered less than. The sisters wanted to create a swim school where teaching swim lessons could become a career path for their staff. With that mentality, they've been able to find some of the absolute best swim teachers around. In addition to encouraging instructors to teach to their strengths, Little Kickers offers paid time off, bonuses, parental leave, and many other benefits. We truly believe these instructors are some of the most giving, loving, thoughtful, and talented people around!
ALWAYS AN ADVENTURE
The Little Kickers Team is always working to improve and constantly keeps up-to-date with the latest developments in the world of swim education. We know that we can always be better, and this leads us to continue to explore new methods of teaching, enrollment systems, company culture, and more. We want to build a strong sense of family both within our team and with our clients, create lasting relationships, and ensure a positive experience for everyone involved.
Daphna Kapnik and Yael Miller